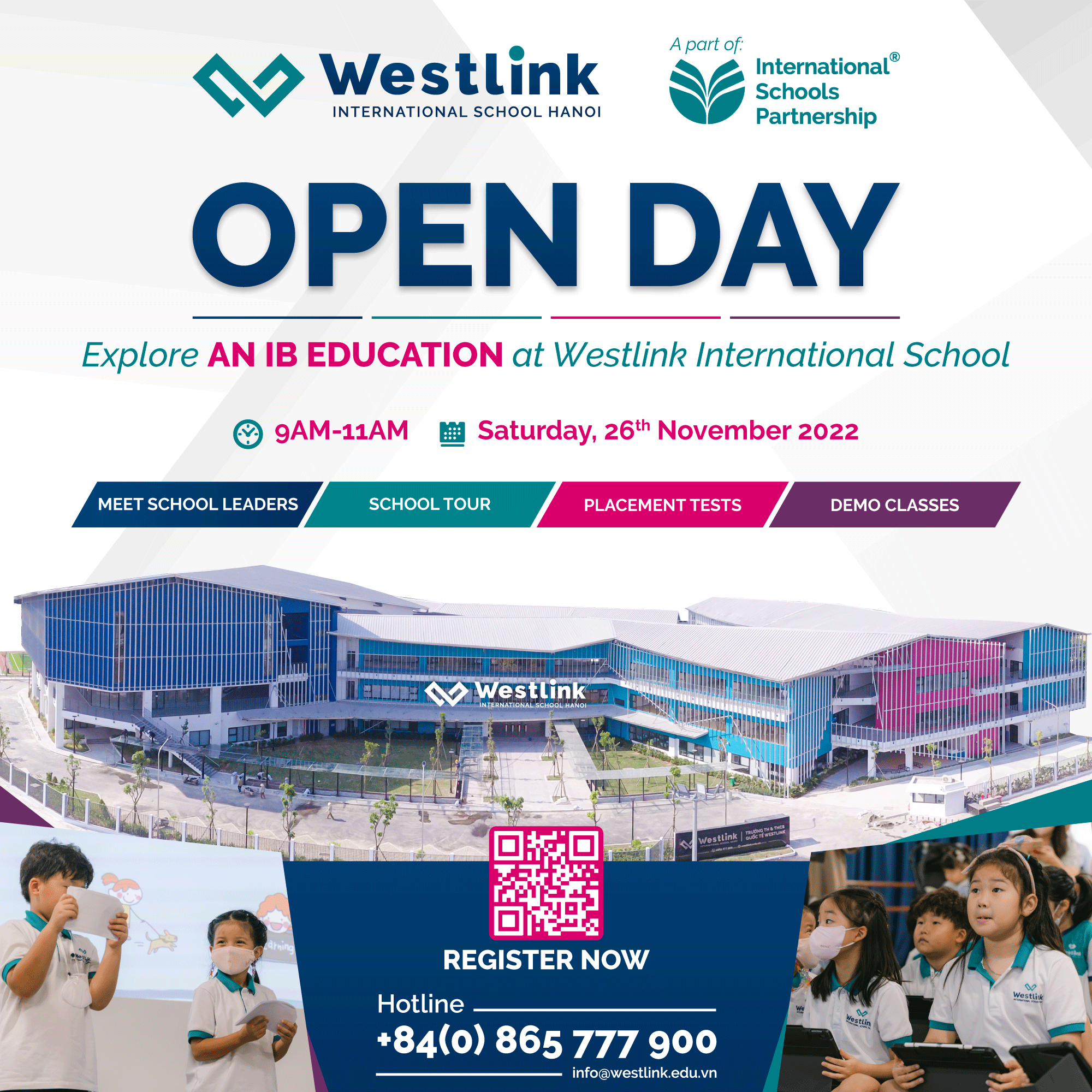 Westlink International School cordially invites you to our OPEN DAY:
𝐄𝐗𝐏𝐋𝐎𝐑𝐄 𝐀𝐍 𝐈𝐁 𝐄𝐃𝐔𝐂𝐀𝐓𝐈𝐎𝐍 𝐀𝐓 𝐖𝐄𝐒𝐓𝐋𝐈𝐍𝐊 𝐈𝐍𝐓𝐄𝐑𝐍𝐀𝐓𝐈𝐎𝐍𝐀𝐋 𝐒𝐂𝐇𝐎𝐎𝐋
For Parents and Students from Pre-Primary to Grade 6
Time: 9AM-11AM, Saturday 26 November 2022
Address: Western Westlake, New Urban Area Xuan Tao, Bac Tu Liem, Hanoi
Register free at:
https://event.westlink.edu.vn/
or hotline 0865 777 900
———
REGISTER NOW TO RECEIVE:
• Free placement test for registrations before 20 November 2022
• Special benefits available for enrollment on the day (Up to VND 100 million)
———
Join us to discover how your child can thrive in a safe and positive learning environment while studying at Westlink International School. This is an ideal event:
For Parents to:
• Explore our newly built campus and state-of-the-art facilities such as the outdoor sports field, indoor swimming pool, multipurpose hall and much more.
• Find out more about the IB pathway from the primary until high school years.
• Talk to our School Leadership Team.
• Receive support from our Admissions team about the learning opportunities at Westlink.
For Students to:
• Experience what it's like to be a Westlink student through our Demo classes.
• Get a better idea of English proficiency through our WIDA-based placement test.
• Tour our modern, green, and fully equipped school and do some reading in our spacious library.
—
𝐖𝐄𝐒𝐓𝐋𝐈𝐍𝐊 𝐈𝐍𝐓𝐄𝐑𝐍𝐀𝐓𝐈𝐎𝐍𝐀𝐋 𝐒𝐂𝐇𝐎𝐎𝐋 – 𝐃𝐑𝐄𝐀𝐌, 𝐒𝐓𝐑𝐈𝐕𝐄, 𝐒𝐔𝐂𝐂𝐄𝐄𝐃
Western Westlake, Xuan Tao, Bac Tu Liem, Hanoi.
0865 777 900
info@westlink.edu.vn
https://westlink.edu.vn/