Westlink International Academy blends the curriculum issued by the Vietnamese Ministry of Education and Training (MOET) with the US curriculum. Students will divide their time between specialist subjects taught in English and MOET subjects taught in Vietnamese. The curriculum complies with MOET's guidelines but also utilizes US curriculum outcomes and standards, as well as a student-centered teaching approach that focuses on cultivating problem-solving, critical thinking, innovation, and collaboration skills.
Students from Year 1 to Year 9 in the Integrated Program will study a range of selected specialist subjects in English such as  
English,
Applied Science
ICT
The Arts,
Music, Drama,
Physical Education
while MOET standard subjects are taught in Vietnamese. 
At the end of Year 9, students can transfer to the International Program and undertake a specially devised preparation year for the International Baccalaureate Diploma Program (please click here for more details). Alternatively, students may transfer to our sister school, Hanoi Toronto School where they can complete the MOET syllabus and gain their Vietnamese High School Diploma. For further details on this, please click the following link: HTS Integrated Program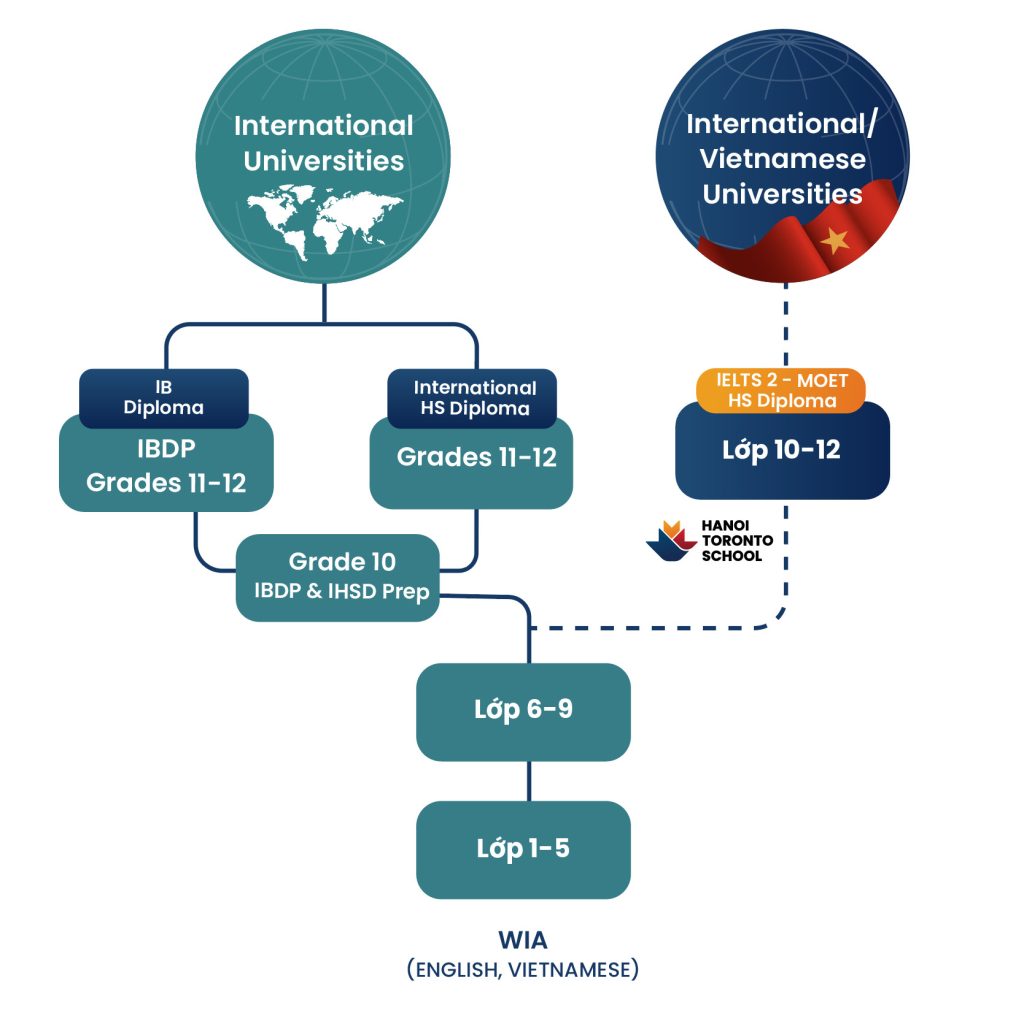 The Westlink International Academy is a carefully considered combination of local and international ideas. The first priority to ensure that the curriculum, reporting and other requirements of the MOET curriculum are met in full and then this is supplemented and complemented by giving students additional skills and experiences to be highly successful in today's world.
US curriculum is used by schools across the world as it has clearly stated outcomes allowing families to know how their children are progressing. By using the US curriculum, Westlink academy is supporting children in their pathway to study at universities in the USA.
The English and Vietnamese components of the program work together and so provide students with the best of both worlds. Careful planning and consideration is given to ensuring that the English curriculum builds on the knowledge and skills taught and acquired in the MOET curriculum. Other subjects taught in English aim to develop English proficiency in the content areas as well as deepening and extending student understandings gained in the MOET curriculum.
Teachers works collaboratively both and professional development is provided to all staff utilizing the skills and resources of Westlink International School.
English language learning is one of our highest priorities at Westlink International Academy. Students will use the knowledge and skills they acquire in both the MOET curriculum and the additional subjects to prepare themselves for a successful future. We have intentionally scheduled the school day to have 45% of instruction in English by qualified expat teachers to strengthen language skills as well as accelerate students' overall English language development and proficiency. The outcomes and standards used in the English language program are taken from the US common core curriculum. By doing this, the knowledge and skills acquired creates opportunities and choices for students when they complete Year 9. Students can chose to transition to the International Program or continue with their MOET studies and Vietnamese High School Diploma at our sister school, Hanoi Toronto School. There will also be opportunities for the students in the Integrated Program to transition to the International program at any year provided they meet the criteria set forth by the school. These criteria are based on English language proficiency, academic performance and social and emotional readiness. To further support their English language development, opportunities will be available from time to time for students in both the Westlink School and the Westlink Academy to collaborate together on specific learning projects. These opportunities will allow students to develop cross -cultural, language, leadership, decision making, conflict resolution and enhanced communication skills – all of which are global competencies critical to a successful future. Students will be assessed in all subjects as required by MOET as well as in their English subjects. All students and their families will receive written reports for these subjects twice a year.
Our program combines the best of both worlds, blending academic excellence with real-world experience. With a curriculum that emphasizes hands-on learning and practical skills, your child will be well-prepared for their future. There are three great reason for your child to study at Westlink International Academy
Opportunity
Our program offers the chance for students to receive a high-quality education at a lower cost, while saving for higher costs in high school.
With the option to transfer to a full international program or continue in local studies, your child has the opportunity to chose the pathway best suited for them to ensure future success.
The combination of MOET and US curriculums, English language teaching, and skill and personal development, the Westlink International program provides an outstanding preparation for students to prepare to enter both overseas and local universities.
International
As a member of International Schools Partnership – a global group of schools, our students benefit from being part of a wider international community, which provides many additional global learning and cultural opportunities.
Our fully qualified expat and specialist teachers, as well as MOET certified teachers, ensure a diverse and well-rounded curriculum.
Success
Our state-of-the-art facilities and targeted program supports the development of essential professional skills, such as problem solving, STEM, and bilingualism, thus set your child up for success.
It is a competitive world! In choosing Westlink International Academy – with its outstanding combination of new state of the art facilities, international opportunities outstanding teaching and a global company focused on students and their future – you are giving your children the advantage they need to succeed.