The IB program is an international academic program with several advantages for students aiming to access high-quality international education and pursue studies at renowned universities. Let's explore the IB program and the characteristics of IB students in this article.
What is the International Baccalaureate (IB) program?
The International Baccalaureate (IB) program is an international educational program designed for students who aspire to access high-quality international education and pursue studies at prestigious universities. The IB program was first established in Switzerland in 1968 and is now widespread in over 150 countries across Asia and Europe. To offer the IB program at the secondary level, schools must meet stringent requirements in terms of teaching standards and be authorized by the International Baccalaureate Organization (IBO) to provide the courses.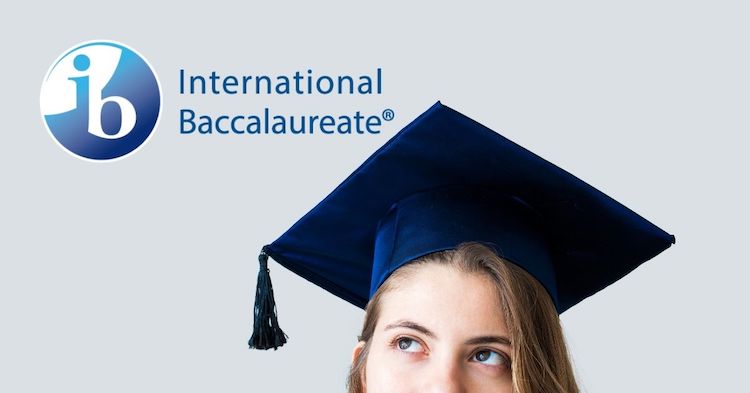 Students in the IB program are equipped with four aspects: intellect, personal, emotional, and soft skills to develop comprehensively and adapt easily to various global environments.
The structure of the IB program consists of four education programs:
The IB program aims to develop knowledge and skills for students to achieve holistic development. Currently, the IB program offers four education programs, which are:
IB Primary Years Programme (IB PYP) for primary school students from preschool to 10 years old.

IB Middle Years Programme (IB MYP) for middle school students, aged 11 to 15.

IB Diploma Programme (IBDP) for high school students, aged 16 to 18.

Career-related Programme (CP): To follow this program, students must complete at least two DP courses to establish a strong academic foundation.
With the IB program, students will choose one subject from the following groups. Among these, they must take at least three (but no more than four) subjects at the higher level (HL), while the rest will be studied at the standard level (SL). The groups to choose from include:
Language and Literature

Language Acquisition

Individuals and Societies (including subjects like History, Religion, Geography, Economics, Psychology, Business Management, and Information Technology)

Science (including Biology, Chemistry, Physics, Environmental Systems, Sports, Computer Science, and Design Technology)

Mathematics

Arts (including Music, Dance, Theatre, Film, and Visual Arts)
Students must complete three core components:
Theory of Knowledge: This course teaches critical thinking, the nature of knowledge, and what is considered "truth."

Extended Essay: Students must write a 4,000-word independent research essay related to the subjects they study.

Creativity, Activity, Service (CAS): This includes volunteer activities, extracurricular projects, sports competitions, and creative events to reflect students' creative and active qualities.
Attributes of IB students (IB Learner Profile)  include:
For IB students, regardless of the subjects they choose to study, they are expected to possess the following qualities:
Inquisitive: IB students have a curious spirit, research skills, and the ability to learn independently.

Knowledgeable: They explore and access concepts, ideas, and global issues.

Critical Thinkers: They can use creative thinking and critical reasoning to solve complex problems.

Effective Communicators: IB students can confidently communicate in various languages, express ideas, collaborate, and listen to different perspectives.

Principled: They act with integrity, fairness, respect, and responsibility, taking ownership of their actions and consequences.

Open-Minded: IB students appreciate their own cultural history and are open to diverse perspectives and values.

Caring: They show empathy and respect for others' needs and emotions and engage in community service, making a positive impact on others and the world.

Risk-Takers: They are willing to accept and anticipate risks and challenges.

Balanced: They understand the importance of balancing intellectual, physical, and emotional well-being for their own happiness and the world around them.

Reflective: IB students think deeply about the world, individual ideas, and experiences, recognizing their strengths and limitations to support learning and personal development.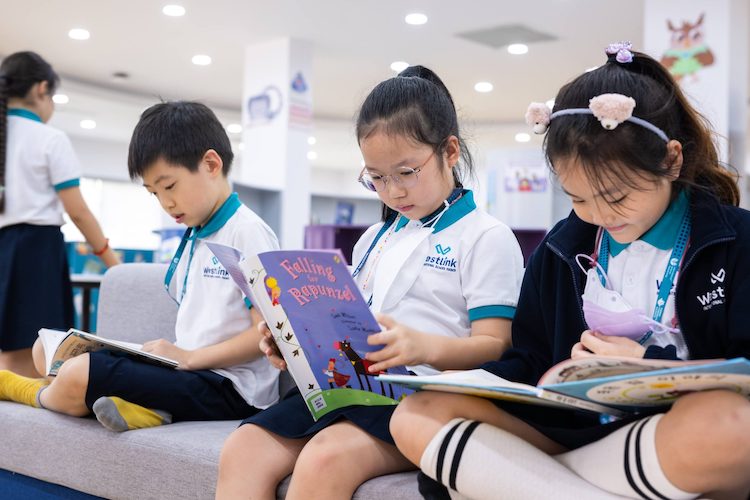 Which is the best IB school in Hanoi?
In Vietnam, IB programs are primarily offered in bilingual schools in major cities like Hanoi and Ho Chi Minh City. One well-known bilingual school in Hanoi that offers the IB program is Westlink International School.
At Westlink, the IB program is offered at three educational levels:
Primary Years Programme (PYP) for students in Grades 1-5.

Middle Years Programme (MYP) for students in Grades 6-10.

Diploma Programme (DP) for students in Grades 11-12.
IB Primary Years Programme (IB PYP) at Westlink:
In the IB PYP program at Westlink, students learn through inquiry and exploration, rooted in the International Baccalaureate Primary Years Programme (IB PYP) and complemented by the US Common Core Standards.
The IB PYP program is based on in-depth inquiry and research-based lessons. By completing 6 units of inquiry each year, students develop skills such as inquiry, critical thinking, and learning. Traditional subjects such as History, Geography, Science, and English are taught in an integrated manner.
Notably, English and Mathematics are taught separately and aligned with the US Common Core Standards for assessing students at each grade level. 
Westlink has established a high-quality learning environment and trained a team of highly qualified teachers with practical experience and expertise. Each class consists of one foreign teacher and one Vietnamese assistant. For subjects like Music, Drama, Fine Arts, Physical Education, and Vietnamese, subject teachers collaborate with the homeroom teacher to provide a diverse and comprehensive curriculum.
The IB PYP program also helps students develop soft skills such as social skills, communication skills, critical thinking skills, research skills, and self-management skills. These skills will be valuable for students as they progress to higher grade levels and for their future life.
IB Middle Years Programme (IB MYP) at Westlink:
The Middle Years program at Westlink is based on the IB MYP framework, which defines the subjects taught, assessment criteria, and the monitoring and reporting of students' academic results.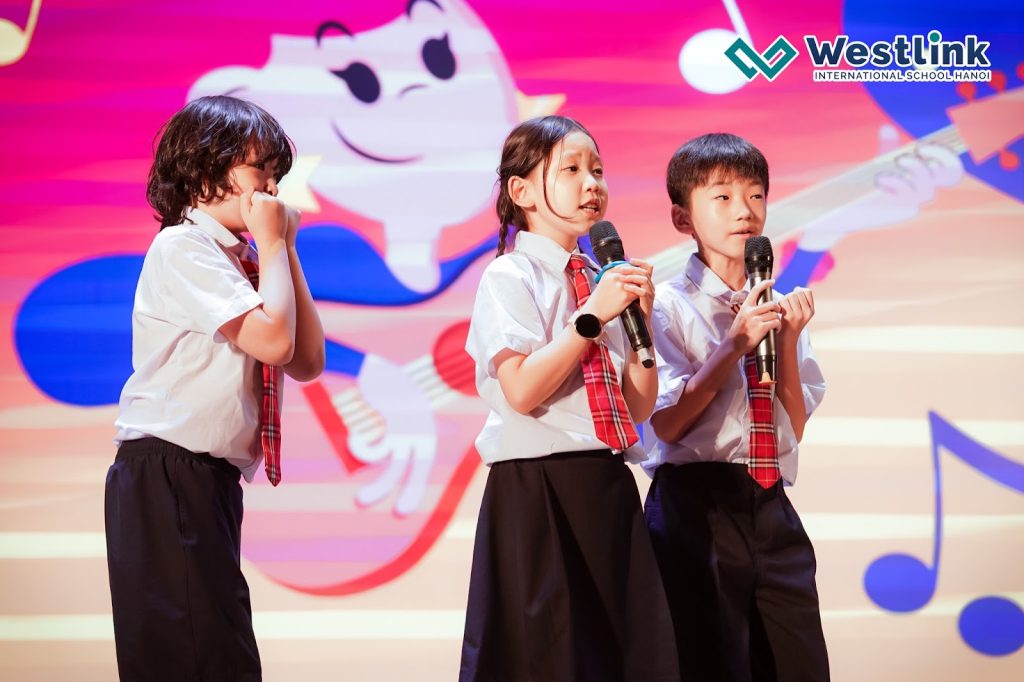 The IB program at Westlink encourages students and teachers to engage in research and exploration to gain a comprehensive understanding of learning. Through this program, students are encouraged to investigate knowledge, skills, and solve interdisciplinary questions and problems. They will be challenged to explore concepts, theories, and demonstrate deep thinking and understanding in all subjects. Teachers can collaborate on cross-curricular activities and integrate teaching around a central theme. Westlink will organize interdisciplinary lessons and integrate them throughout the high school program to provide additional support and lead to individual projects at the end of the school year.
The International Baccalaureate Diploma Program (IB DP)
The IB program at the high school level consists of three core components:
Theory of Knowledge, which requires students to think about the nature of knowledge and how we know what we know.
An extended essay, a 4,000-word independent research project with self-direction.
Creativity, Activity, and Service projects, which involve volunteer activities, extracurricular projects, sports competitions, or creative events that reflect the creative and dynamic qualities of the students.
In the IB high school program, students are required to study two languages (Language A and Language B) and choose one subject from each of the remaining subject groups. Instead of studying an Arts subject, students can choose to study another subject like Natural Sciences, Social Sciences, or Language.
Students will study at least three subjects at the higher level (HL) and the remaining subjects at the standard level (SL). While HL and SL courses differ in the amount of content, they are assessed based on a common assessment framework, and students are expected to demonstrate a high level of knowledge, understanding, and deep skills. SL courses include 150 hours of teaching, while HL courses include 240 hours of teaching.
At each different level, the school will develop an IB program framework that is appropriate to the students' abilities. Throughout the learning process, there will be assessments to monitor progress and determine the knowledge and skills of the students based on the IB learner profile. In addition to student assessments, feedback is provided to support teachers' teaching and future learning planning.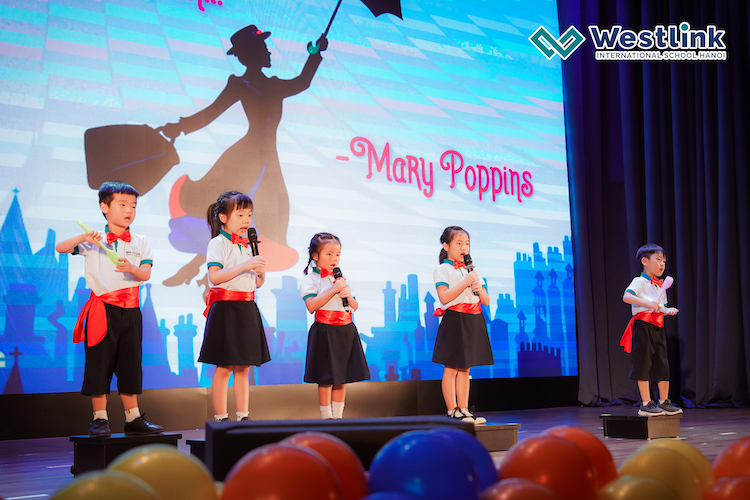 This article has provided a clear understanding of the concept of the IB program as well as the qualities of IB students. Westlink is currently evaluated as an international school that meets the rigorous requirements of the IB organization when delivering this program.
State-of-the-art:

The school has invested in modern facilities that meet international standards. The primary and middle school buildings are constructed on separate campuses. The school has a well-equipped library with thousands of books and various subject areas for students to explore knowledge based on their interests. In addition, functional rooms are built to international standards, including STEM rooms, laboratories, a food technology room, a computer room, a theater, a dance studio, a drama studio, a music room, a recording studio, a digital media studio, and a visual arts room to develop artistic talents.

Highly-Qualified Teaching Staff:

Westlink International School selects its teaching staff very rigorously. 100% of the teachers are highly qualified in their fields and have prior teaching experience at international schools in both Vietnam and abroad. Each year, the teaching staff at Westlink undergo professional development training to enhance their teaching skills, provided by organizations like the ISP and the IB organization.

Skill Development Over Academic Results:

Westlink does not overly prioritize academic results and focuses on helping students develop holistically in terms of knowledge, skills, emotions, and talents. It encourages students to continuously "Dream – Strive – Succeed." Additionally, extracurricular activities help students develop soft skills to easily adapt to the changing times.
For in-depth consultation about the IB program at different educational levels, or to register for classes or schedule a visit, parents can contact Westlink International School at the following address:
CONTACT INFORMATION
Address: West Lake Tay Ho Tay New Urban Area, Xuan Tao Ward, Bac Tu Liem District, Hanoi
Hotline: (+84) 865 777 900
Email: info@westlink.edu.vn