The International Baccalaureate (IB) program is a world-class academic program. Students who obtain an IB diploma enjoy many advantages for their university education, as well as for their future careers and lives.
What is the IB program?
The International Baccalaureate, often abbreviated as IB, is a highly reputable international educational organization. It emphasizes student-centered learning, empowering students to actively explore and discover themselves from ages 3 to 19. The International Baccalaureate program was established in 1968 and focuses on developing four key aspects: Intellect, Personal Growth, Emotional Well-being, and Soft Skills, aiming to enhance students' learning abilities and prepare them for the globalized world.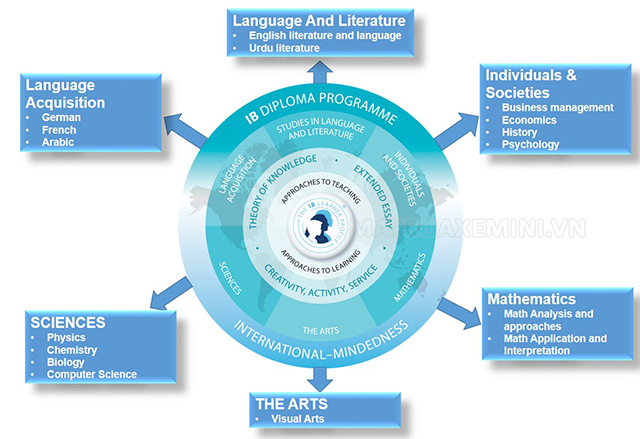 Many parents may wonder what the International Baccalaureate Diploma is. Initially, the IB program only included the IB Diploma for the final two years of high school (grades 11 and 12). The program's purpose is to enable students worldwide to obtain an IB diploma even if they study for just the last two years of high school. Later on, the IB program expanded to include lower levels for preschool to elementary (PYP) and middle school (MYP) students from ages 3 to 16.
Currently, there are four IB education programs:
The International Baccalaureate Primary Years Programme (PYP) is an improved and comprehensive program designed for students aged 3 to 12. Introduced in 1997 by the International Baccalaureate Organization, it was developed through more than a decade of vision and effort. The IB PYP encourages creative thinking, holistic development, and urges students to explore and question various aspects of daily life. 
It also focuses on soft skills development such as language skills, management, and social skills. Through practical activities, students apply their knowledge and skills to real-life situations, learning how to work and collaborate in diverse cultural environments, preparing them to become global citizens capable of adapting to the rapidly changing world.
Middle Years Programme (MYP) for ages 11 to 16:
The International Baccalaureate Middle Years Programme (MYP) is for students aged 11 to 16. This program helps students become creative thinkers with strong critical thinking abilities through a specially designed curriculum.
It encourages students to make connections between subjects and real-life experiences, enhancing communication skills, fostering an understanding of cultural diversity, and engaging with global issues. 
The MYP requires a minimum of 50 teaching hours per subject group each year. In the fourth and fifth years, students can choose from six out of eight subject groups, providing flexibility to cater to individual learning needs..
During the MYP, students work on a long-term project where they set their own learning goals and criteria for project completion
In addition to the two programs mentioned above, high school students may also be interested in the IB Diploma Program (DP) and the Career-related Program.
Advantages of studying the International Baccalaureate program:
The IB program is of great interest to many parents looking to enroll their children. Here are some of the benefits that the IB program offers.
Aim for Comprehensive Student Development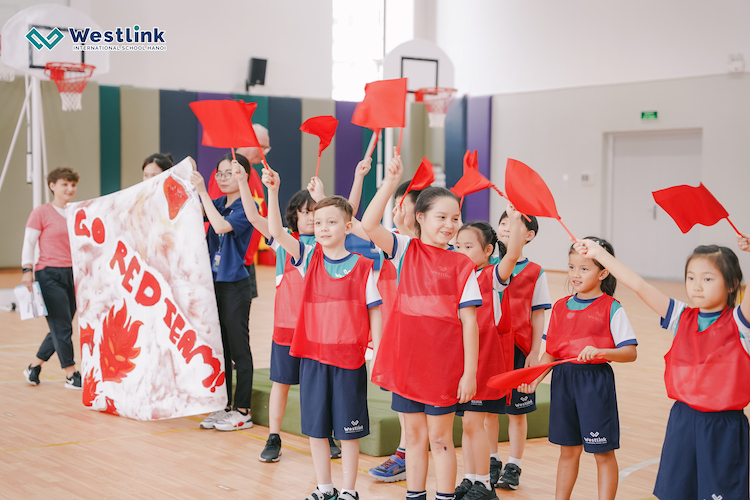 In today's ever-changing society, the IB program is designed to foster life skills, enabling students to learn independently and adapt to the continuous changes in the world. It encourages students to develop a global perspective, understand global issues, and broaden their horizons. Through academic programs and extracurricular activities, students cultivate core qualities such as broad knowledge, principles, a thirst for learning, critical thinking, effective communication, balance, reflection, empathy, open-mindedness, and courage.
Opportunities for Admission to Prestigious Universities
Students holding an International Baccalaureate (IB) diploma receive an advantage in their college application. Universities often view IB graduates favorably compared to those following standard programs.
University Credit Exemption
Some high-achieving IB students may be eligible for credit exemptions at universities. In the case of the state of Texas in the United States, students can receive exemptions for up to 24 out of 30 credit hours in their first year of college. Prestigious universities such as Yale, Harvard, McGill, and others are willing to grant credit exemptions to IB students who meet their requirements for IB diploma completion.
Which Schools Offer the IB International Program?
Currently, the IB International program is taught at several international bilingual schools. In Hanoi, parents can enroll their children in the IB program at Westlink International School, a highly regarded international school.
Westlink International School has applied to become an authorized International School to teach all three IB programs, including the Primary Years Programme (IB PYP), Middle Years Programme (IB MYP), and the IB Diploma Programme (IB DP). The school not only emphasizes academic development but also focuses on developing social, physical, emotional, and cultural skills essential for global citizenship. This program is ideal for students to build their capacity for critical thinking and progressive thinking, aiming to make a positive difference in the current world and the future.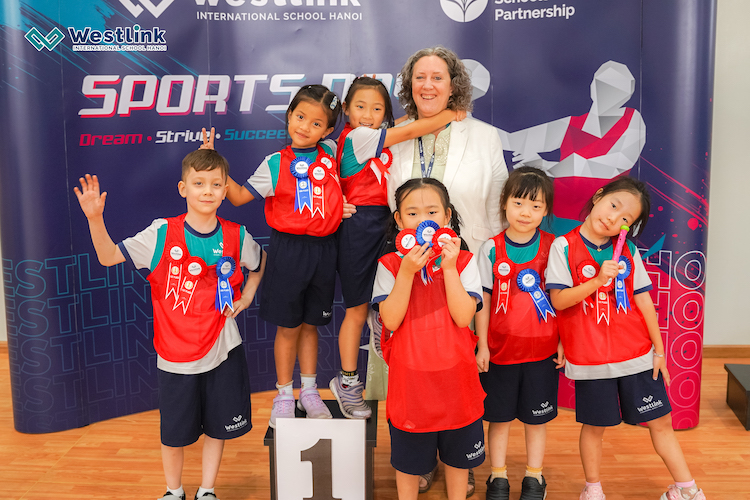 For the international program from grades 1 to 12, the school combines the US Common Core Standards with the renowned International Baccalaureate (IB) curriculum.
In this program, students will develop their expertise through core subjects such as Mathematics, English, Science, as well as specialized subjects like Drama, Music, Fine Arts, and Information Technology. Additionally, students will also develop soft skills, critical thinking abilities, and talents, making them well-prepared for any university worldwide.
To be eligible for the IB Diploma, a strong academic performance is required by the end of Grade 10. With an IB Diploma, students can apply to universities worldwide, including international universities in Vietnam.
IB Primary Years Programme (Grades 1-5):
The framework of the IB PYP program begins with the premise that students are given the authority to take charge, be responsible, and become partners in their own learning (Student Agency). From there, students develop knowledge, understanding of concepts, and various skills and IB qualities that set them apart not only in their lives but also in their communities.
In the IB Primary Years Programme (PYP), students are required to complete six transdisciplinary units in conjunction with traditional subjects, which include English, Science, History, and Geography. Mathematics and English are aligned with the US Common Core Standards to assess students at each grade level. This combination of curriculum elements helps students develop soft skills such as social skills, communication, self-management, and critical thinking. It offers a well-rounded education that combines academic excellence with the nurturing of important life skills.
Subjects include: Vietnamese, Fine Arts, Drama, Music, Education, and Physical Education. Subject-area teachers will collaborate with homeroom teachers to provide a diverse curriculum to students.
IB Middle Years Programme (MYP)
In the MYP at Westlink, students not only study and grasp knowledge and skills from traditional subjects but also integrate what they've learned to solve interdisciplinary questions and issues.
In all subject areas, students are challenged to explore concepts, theories, and demonstrate a deep level of critical thinking and understanding. Key MYP concepts help students develop a comprehensive and well-structured understanding across various subjects and fields of study. These related concepts are built upon the subjects and provide depth and focus on the content learned in the classroom.
The IB Diploma Programme (DP) (Grades 11-12) 
The programme consists of three core components:
Theory of Knowledge: This component requires students to think critically about the nature of knowledge and how we come to know what we claim to know.

Extended Essay: Students must write a 4,000-word research paper on an independently chosen topic.

Creativity, Activity, and Service (CAS) Project: This part involves students completing a personal project related to the areas of creativity, physical activity, and community service.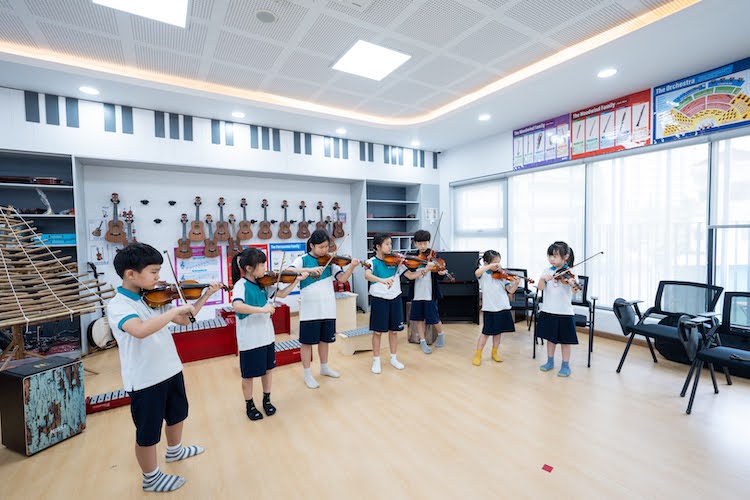 Students are required to study two languages (Language A and Language B) and choose one subject from each remaining group of subjects. Instead of studying Art, students can opt for an additional subject such as Social Sciences, Natural Sciences, or another language.
Students will study at least three subjects at the higher level (HL) and the remaining subjects at the standard level (SL). HL and SL courses will differ in terms of content but are assessed based on a common assessment framework, requiring students to demonstrate a deep and broad understanding and knowledge at a high level. SL level subjects will include 150 teaching hours, while HL level subjects will include 240 teaching hours.
At Westlink, students will learn in an internationally standardized school environment. Instead of being burdened with daily scores, students at Westlink have the opportunity to be creative, conduct research, and participate in extracurricular activities to enhance their soft skills. The teachers will also be their companions to help them achieve academic excellence and have memorable experiences during their school years at Westlink International School.
MC Minh Trang, a parent of a student at Westlink, shares: "The reason our family chose Westlink is because it is one of the very few international schools in Hanoi that offers the IB International Program. Every day, our children come home from school very happy and excited, sharing their experiences at school and the subjects they like."
SEE MORE: MC Minh Trang Shares Reasons for Choosing Westlink for Her Child's Education:
Here is all the information related to the IB International Program. In Hanoi, Westlink International School is the school that offers the IB program and is highly rated by many parents. If parents need more detailed advice about the IB program at different educational levels, they can contact us at the following address.. 
CONTACT INFORMATION
Address: Tay Ho Tay Urban Area, Xuan Tao Ward, Bac Tu Liem District, Hanoi
Hotline: (+84) 865 777 900
Email: info@westlink.edu.vn