Westlink International School is proudly a member of ISP – an educational network that has 70+ schools in 20+ countries over the world. We always put learning first to help students reach levels that amaze them and parents, which we call "Amazing Learning".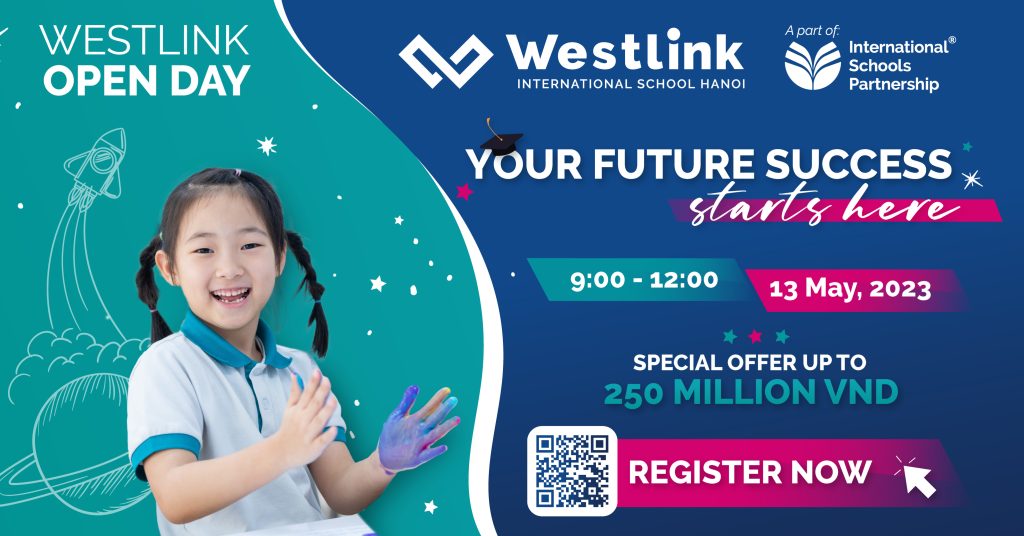 Westlink International School cordially invites families to attend and experience the international education right in Hanoi in our OPEN DAY: "𝐘𝐎𝐔𝐑 𝐅𝐔𝐓𝐔𝐑𝐄 𝐒𝐔𝐂𝐂𝐄𝐒𝐒 𝐒𝐓𝐀𝐑𝐓𝐒 𝐇𝐄𝐑𝐄!" with many amazing activities:
SCHOOL TOUR: Discover our state-of-the-art facilities, exceptional academic spaces, international-standard sports areas, etc.
EXPERIENCE ACTIVITIES: Diverse activities for students from Pre-primary to Secondary such as Pottery Making, Music, Arts, Food Technology, Science, Magic Show with expat teachers.
CONNECT WITH THE SCHOOL LEADERS: Find out more about the curriculum (IB & Bilingual Program), educational philosophy, and teaching methods at Westlink.
GET CONSULTATION: Answer all your questions about the program, tuition fees, promotions… from the dedicated Admissions Team.
Time: 9:00 – 12:00 | Sat, 13 May 2023
Location: O2 – Tay Ho Tay urban area, Xuan Tao, Bac Tu Liem, Hanoi
Find us on GG map:
https://goo.gl/maps/8DbeeW7U4U1DrHm68
Register now:
https://event.westlink.edu.vn/en
———-
SPECIAL OFFER – FOR PARTICIPANTS ONLY:
FREE registration fee, uniform, entrance test
SPECIAL OFFER for groups, families, early registration
UP TO 250 MILLION VND
Westlink International School hopes to see and welcome all families to come and experience the international standard learning environment at our school!