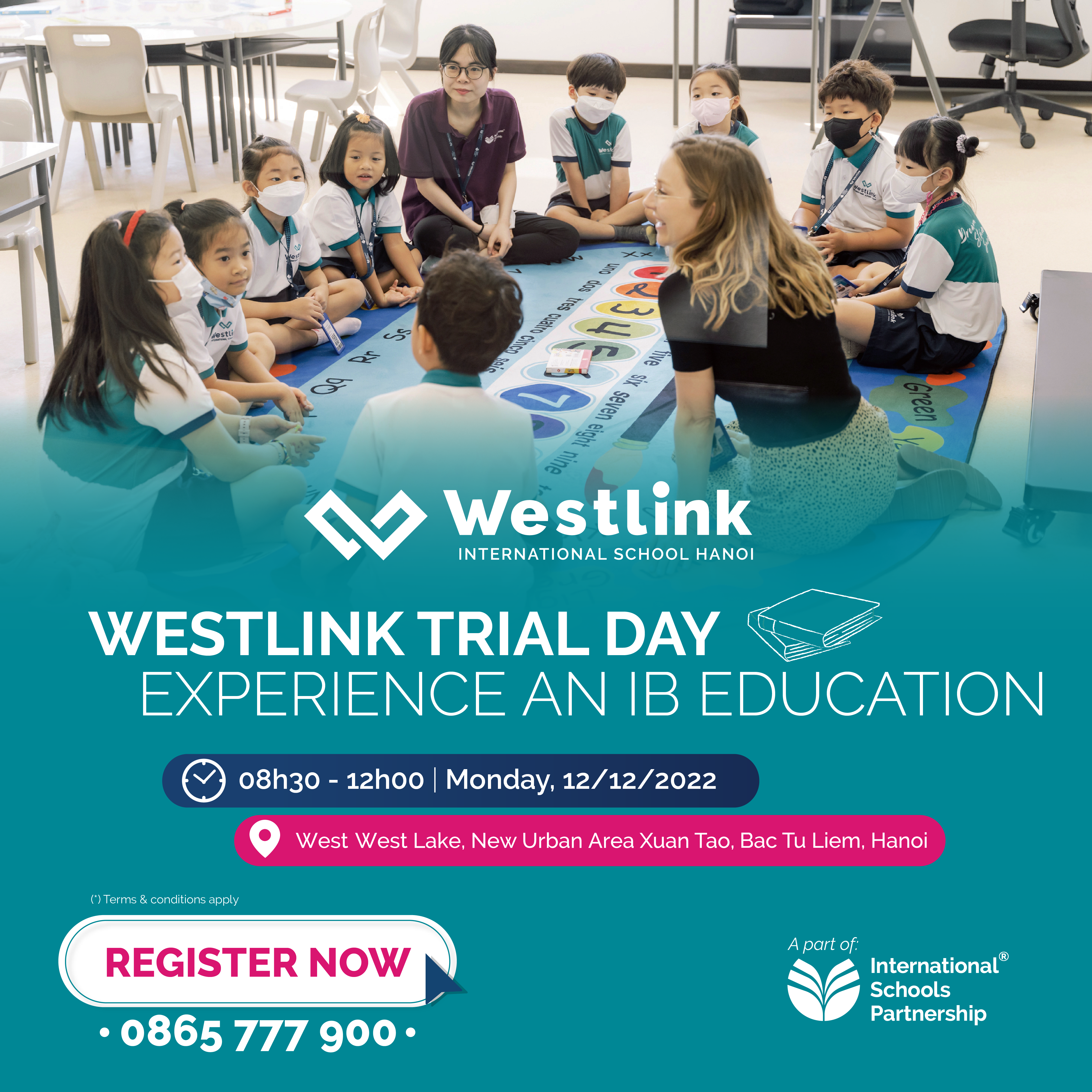 Choosing the right school can be an overwhelming task! We understand that, as a parent, you only want the best for your child – the best opportunities, extracurricular programs, learning spaces, and of course, the best education that will help set them up for a successful future.
Let your child experience the Westlink community first-hand, with a morning packed full of learning and activities for 5 to 10-year-olds.
Discover how your child can thrive in a safe and positive learning environment while studying at Westlink International School through:
The IB PYP program: Classes and activities delivered in English by our western-trained staff.
Teaching influenced by the latest research: integration of IB subjects with US Common Core; a special emphasis on developing both essential knowledge and skills such as critical thinking and an international outlook.
Innovative facilities: a state-of-the-art campus provides the background to great teaching and learning, creating a positive learning environment to inspire creativity, independence, and a love of learning.
Exceptional teaching staff: fully committed to serving the needs of students and parents in our community so that your child can experience Amazing Learning through great teaching.
A balanced and nutritional lunch at our school canteen.
———
Time: 8AM-12 noon, Monday, 12 December 2022
Address: Western Westlake, New Urban Area Xuan Tao, Bac Tu Liem, Hanoi
Quickly register for a FREE trial class at:
https://event.westlink.edu.vn/en
or hotline 0865 777 900 due to limited number of slots.
(*) Terms & conditions apply: The program is only open to students who have completed the placement test.
==================================
𝑻𝒐 𝒌𝒏𝒐𝒘 𝒎𝒐𝒓𝒆 𝒂𝒃𝒐𝒖𝒕 𝒕𝒉𝒆 𝒍𝒆𝒂𝒓𝒏𝒊𝒏𝒈 𝒆𝒏𝒗𝒊𝒓𝒐𝒏𝒎𝒆𝒏𝒕 𝒂𝒕 𝑾𝒆𝒔𝒕𝒍𝒊𝒏𝒌, 𝒑𝒍𝒆𝒂𝒔𝒆 𝒄𝒐𝒏𝒕𝒂𝒄𝒕 𝒗𝒊𝒂:
𝐖𝐄𝐒𝐓𝐋𝐈𝐍𝐊 𝐈𝐍𝐓𝐄𝐑𝐍𝐀𝐓𝐈𝐎𝐍𝐀𝐋 𝐒𝐂𝐇𝐎𝐎𝐋 – 𝐃𝐑𝐄𝐀𝐌, 𝐒𝐓𝐑𝐈𝐕𝐄, 𝐒𝐔𝐂𝐂𝐄𝐄𝐃
Western Westlake, Xuan Tao, Bac Tu Liem, Hanoi.
0865 777 900
info@westlink.edu.vn
https://westlink.edu.vn/