Currently, due to the high demand of parents searching for international schools in Hanoi, the number of private schools has increased compared to previous years. However, how can parents find the most suitable school for their children? Let's find out the best bilingual schools through this article.
Westlink International School (WIS) – The best international school in Hanoi for studying
When asked about the best international school in Hanoi, many parents immediately choose Westlink International School. So what makes Westlink "The School of Choice"? Here are the advantages of Westlink that make this school become the number one international school in Hanoi.
A member of the prestigious ISP organization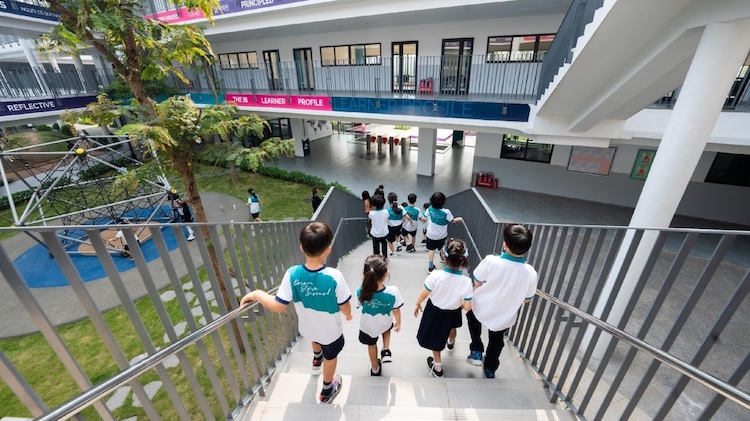 Westlink International School is part of the International Schools Partnership (ISP), a leading global education organization headquartered in the United Kingdom. ISP owns a network of over 70 schools in more than 20 countries. Therefore, Westlink aims to create the best educational environment with the goal of providing students with excellent learning experiences and achieving the best academic results. The school inspires students to have confidence, dreams for future development, and become the "School of Choice" for parents and students in the region. Westlink constantly strives to deliver an "Amazing Learning" experience, where both parents and students are amazed by the outstanding progress of students.
Westlink offers the International Baccalaureate (IB) program
The school has registered to become an authorized international school for all three IB programs, including the Primary Years Program (IB PYP), Middle Years Program (IB MYP), and the International Baccalaureate Diploma Program (IB DP). The IB program at Westlink is based on American academic standards and the prestigious International Baccalaureate standards. Students study core subjects like English, Science, Mathematics, Arts, Physical Education, etc., through interdisciplinary projects. IB program students gain a significant competitive advantage for admission to top universities worldwide.
Students following the IB International Baccalaureate program not only develop academic knowledge but also enhance their intellect, personality, emotions, and especially soft skills to easily adapt to the global environment. IB diploma owners enjoy advantages such as access to top global universities, credit exemptions, scholarship opportunities, and improved leadership skills. 
In addition to the international program, parents can choose the bilingual program (Westlink International Academy – WIA). This program combines the Vietnamese Ministry of Education and Training's standard curriculum with the US Common Core standards, with students studying 50% of the time in English and 50% in Vietnamese. The program integrates academic learning with practical experiential activities. 
State-of-the-art Learning Space
Westlink, as the best international school in Hanoi, prioritizes investment in modern facilities. The school boasts a 2.5-hectare campus designed and fully funded by the ISP education organization. All classrooms at Westlink meet international standards with complete lighting systems, air conditioning, UV-resistant windows, and high-tech interactive screens. In the corridors, there are insect repellent systems. 
The school also has various dedicated functional rooms to optimize student learning and explore their potential, such as STEM rooms, Food Technology rooms, Laboratories, Computer rooms, Music rooms, Recording studios, Digital technology studios, and Visual Arts classrooms.
Highly qualified teachers and staff at Westlink International School.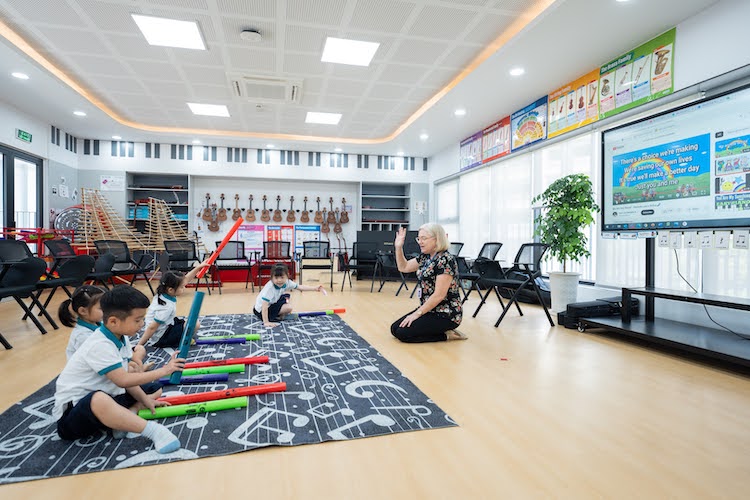 Understanding the importance of teachers in educating students, teachers not only impart lessons but also serve as bridges to promote unity and love among students. They help students discover their strengths and facilitate their overall development. Therefore, the teaching staff at Westlink undergoes strict selection, and they have previously taught at major international schools both domestically and internationally. Notably, 100% of international teachers have undergone background checks by security agencies to ensure student safety.
Westlink International School aims to foster comprehensive development in every student
Instead of solely focusing on academic results through tests and examinations, Westlink prioritizes helping students develop their knowledge, skills, physical abilities, and talents. Students are encouraged to develop their strengths through extracurricular activities, enhancing soft skills to adapt effectively to a globalized environment. 
For detailed information about classes and consultation, please contact:
CONTACT INFORMATION
Address: New Tay Ho Tay Urban Area, Xuan Tao Ward, Bac Tu Liem District, Hanoi
Hotline: (+84) 865 777 900
Email: info@westlink.edu.vn
Singapore International School – SIS 
Singapore International School (SIS) is part of the KinderWorld Education Group (Singapore) with over 30 years of experience in education. SIS offers education from primary to secondary levels, combining the education systems of Singapore and Western countries. 
SIS has five special strengths
The curriculum from the Singapore Ministry of Education and the University of Cambridge

Internationally recognized qualifications (iPSLE, IGCSE, A-level, GAC)

Top-ranked students in the world under the Program for International Student Assessment (PISA)

Certifications from reputable education organizations worldwide (Western Association of Schools and Colleges WASC

The opportunity to study a semester at Elmhurst University in the USA with credits accepted by American universities
Hanoi International School
Hanoi International School is a collaborative project between the Education Technology Center and the American International School Development Company. The school offers education from preschool to high school with a combined curriculum from the Vietnamese Ministry of Education and international programs. Hanoi International School aims to help students develop comprehensively and become global citizens.
British Vietnamese International School – BVIS Hanoi
British Vietnamese International School, part of the Nord Anglia Education organization (present in 29 countries), combines the British and Vietnamese education systems. The school offers education from kindergarten to high school, allowing students to learn subjects from the Vietnamese curriculum while also gaining knowledge from the UK. This approach broadens students' horizons, promotes global thinking, and preserves national values. 
 BVIS invests in modern facilities, with well-equipped classrooms to support students' learning. 
Upon graduation, students receive international qualifications.
Wellspring – A high-quality international school in Hanoi
Established in 2009, Wellspring Bilingual Multilevel School is also a popular international school in Hanoi chosen by many parents. Wellspring School has been recognized to meet Cambridge standards for all three education levels. Additionally, the school is a member of prestigious international organizations such as NCC, ERB, Cambridge ESOL, ETS, and College Board Test Site.
It is known as a modern school thanks to its modern infrastructure and optimized equipment designed for teaching and learning.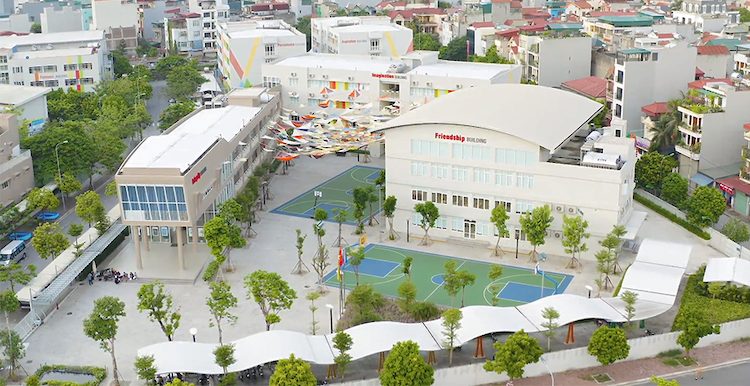 Vietnamese – Australian International School Hanoi
If you are looking for an international school in Hanoi for their children, you can consider the Vietnamese – Australian International School
The bilingual program at the Vietnamese – Australian International School is a combination of the Vietnamese Ministry of Education and Training's curriculum and the Cambridge International curriculum endorsed by the British Council.
One advantage of sending your child to the Vietnamese – Australian International School is that they can enjoy the benefits of studying abroad while staying close to their parents, who can take care of them daily. The school invests heavily in its physical infrastructure and has a highly qualified and dedicated teaching staff. Students at the Vietnamese – Australian International School not only excel in intellectual development but also acquire life skills that enable them to meet the requirements of the next levels of education and quickly integrate into an international study environment.
Vietnam International School 
The International School of Vietnam currently offers a bilingual program from kindergarten to high school. If parents are looking for a dynamic and joyful school for their children, they can consider the International School of Vietnam. Here, students will receive a quality education with international standard facilities, a dedicated and enthusiastic teaching staff, and a fun learning environment.
Japanese International School
If you are looking for a school with a Japanese model, you can choose the Japanese International School. This school emphasizes the development of ethics, building compassion, tolerance, and helping students to have discipline, self-esteem, and knowledge.
The Japanese International School aims to:
Compassion, tolerance, inner depth, and community awareness.

Develop honest, confident, self-respecting individuals with the ability to work independently and creatively.

Equip students with the competencies and qualities to become outstanding citizens and meet international standards as students.
Hanoi Academy International Bilingual School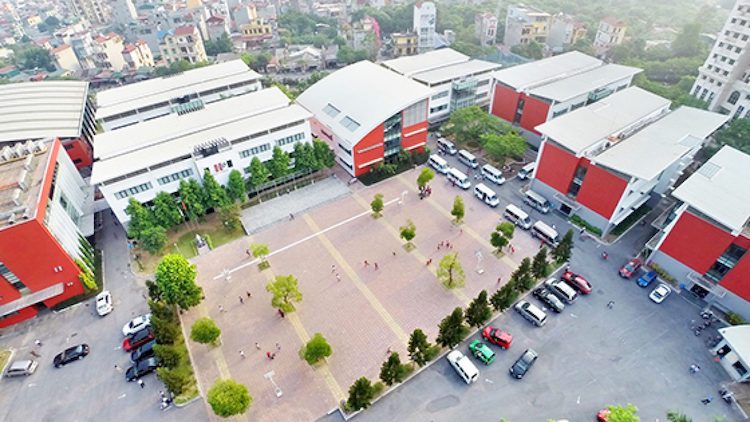 Hanoi Academy is another international school in Hanoi where parents should consider enrolling your children. Hanoi Academy provides bilingual education from kindergarten to high school. The school's goal is to create global citizens, and parents can rest assured when their children attend this school. Currently, Hanoi Academy's curriculum combines both the Vietnamese Ministry of Education and Training program and the British curriculum.
Newton Grammar School
Newton Grammar School is a school that has been evaluated and licensed by the Hanoi Department of Education and Training. It has partnerships with schools in the United States, the United Kingdom, Canada, Australia, and more
Students at Newton International Bilingual School follow the "GW PROGRAM," which includes subjects from the Vietnamese Ministry of Education, integrated with English-taught subjects in Math, Science, and Literature by teachers from GW School (USA).
Newton International School aims to equip students with life skills and strives for all students to graduate from high school and achieve high results in Vietnamese university entrance exams. This preparation helps students become proficient in English, and they can choose to study the IB program, university preparation courses, or A-levels to continue their education abroad.
Alfred Nobel School
Alfred Nobel Bilingual Multilevel School follows a modern Western education philosophy and has produced many talented and confident generations of students. When entering high school, the school offers an international program alongside bilingual education to help students obtain the South Australian Certificate of Education (SACE), which is equivalent to A-level and IB certificates and is accepted by some English-speaking universities.
International Middle School – High School Thang Long,  Bill Gates Schools
International Middle School – High School Thaăng Long,  Bill Gates Schools was established in 2010 with the goal of fostering the comprehensive development of students, physically, mentally, and culturally. The school offers education from kindergarten to high school, including extracurricular activities to enhance students' soft skills.
With the list of international schools in Hanoi that we have introduced here, we hope parents will have a comprehensive overview and be able to choose the school that best suits your children.
Read more: Top Bilingual Schools for Elementary Students in Hanoi